You Are Here
>
Home
>
NewsRelease
Minister Wang Wentao met with John Lee ka-chiu, Chief Executive of the Hong Kong Special Administrative Region (HKSAR) in Beijing

On the afternoon of March 15, Minister of Commerce Wang Wentao met with John Lee ka-chiu, Chief Executive of the Hong Kong Special Administrative Region (HKSAR) government. They had an in-depth exchange of views on promoting economic and trade exchanges and cooperation between the two sides. Vice Minister Guo Tingting attended the meeting.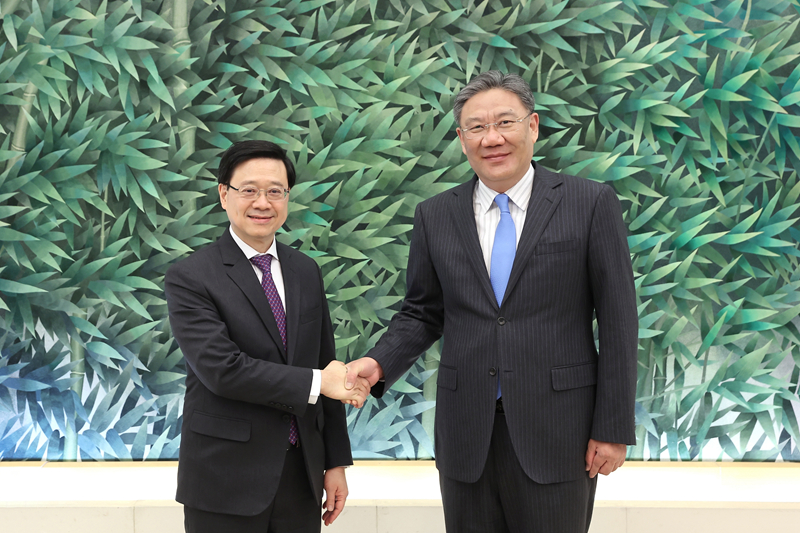 Wang Wentao said that President Xi Jinping visited Hong Kong in July last year and put forward four proposals for the future development of Hong Kong. The Report to the 20th CPC National Congress has drawn an inspiring blueprint for the cause of "one country, two systems", which provides a fundamental basis for us to well implement work involving Hong Kong in the new era. Hong Kong has opened a new chapter to advance from governance to prosperity. The Ministry of Commerce will conscientiously implement President Xi Jinping's important observations and instructions on work involving Hong Kong and Macao, actively support Hong Kong in joining RCEP as soon as possible, solidly promoting the development of the Guangdong-Hong Kong-Macao Greater Bay Area, and better integrating itself into the country's overall development. At the same time, in order to restore and expand consumption and attract and utilize foreign investment with greater efforts, the Ministry of Commerce will organize a series of activities under the "Year of Consumption Promotion" and "Invest in China Year", in which Hong Kong can play a unique role.
John Lee ka-chiu said that he appreciates the continuous support of the Ministry of Commerce, and that the Government of the Hong Kong Special Administrative Region will work with the Ministry of Commerce. Hong Kong enjoys the backing of the motherland and is open to the world. It will continuously improve economic and trade cooperation between the two sides, actively expand international exchanges and maintain Hong Kong's long-term prosperity and stability.